I recently attended my Regional Sweet Adeline contest in Syracuse, New York where we honoured our director of 45 years.  The legacy she has left for not only her chorus, but the Region and the International organization is undeniable.
Singing has been a passion of mine since I was a young girl and though I sang in school choirs and dreamed of growing up to be in musicals…. I never would have guessed that my passion would find its home in a women's four-part a cappella organization. I found it when I was 22 years old and was hooked from the first visit. I didn't realize that a women's organization like this existed – I thought it was only a men's gig.  I had so much fun on Tuesday evening rehearsals; I made great friends, learned so many vocal skills and the bonus was the choreography which reminded me of the musicals I loved growing up.
North Metro Chorus
After 5 years with a local group, I made the decision to try out with the Toronto group who I had the chance to watch and be inspired by at our Regional contests. Their level of performance, choice of music and fantastic choreography had me spellbound every time I saw them. So, in May of 1987, I made the move to North Metro Chorus where I am to this day 30 years later.
Director June Dale Always Led Us to Victory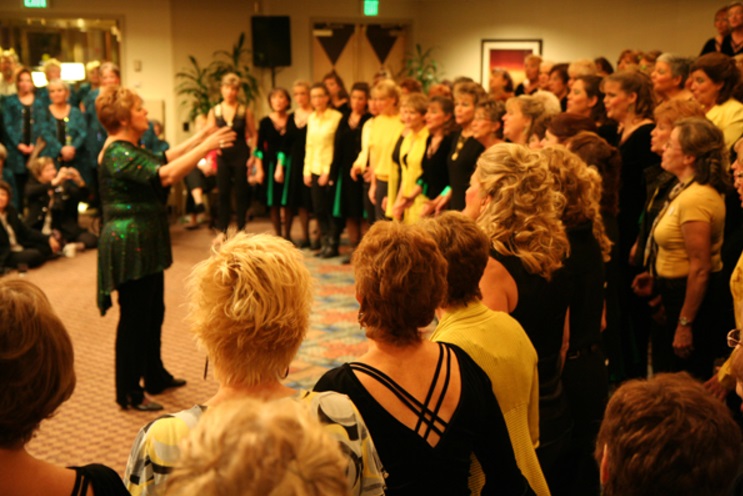 June Dale has directed this chorus from its beginning with only 17 members to a peak of 185 members. She has led us to win every Regional Contest I have ever been in with North Metro which qualifies us to compete at the International level.  These international contests have fulfilled another of my passions, travel; as they are held in various US cities including Waikiki, Hawaii. When we placed first in 1996, we were the first chorus outside the USA to bring the gold medal home.  We now have 4 International gold medals to go along with many other top 5 medal placings.
We have been Walt Disney Newsies, chimney sweeps from Mary Poppins, Oklahoma, Sailors, Miners, Martians and Toy Soldiers, just to name a few or our themed packages. June continued to expand her talents over the years and became a Master Director, a certified music arranger, coach, International faculty member and a true visionary. Together with her daughters – Erin who created all our award winning choreography and Lynn who created our incredible costumes – this team was a true winning combination.
Passing of the Torch to Erin Howden
This past Regional, we had the opportunity to acknowledge the contributions of our incredible leader as she has decided to step down from directing us in competition and pass the torch over to her daughter Erin Howden. It was a weekend of emotional celebrations. There was a strong outpouring of love and respect shared from everyone in attendance including our International Judges who were present. I got another chance to reflect on how much this hobby has added to my life over the years. It makes the weekly travel, hours of learning, the cost of our dues and travel a small price in exchange for the lifelong friendships, transferable skills, numerous life experiences and the rush of creating the most beautiful harmony that changes the lives of ourselves and audiences alike.
It is an organization that welcomes novice singers of all ages to come together and create a professional level performance. I am as excited about the journey today as I was 35 years ago.   I can't imagine my life without it!  Here is a link for a YouTube clip of our last International performance.  We have a show planned for this September 16th to perform the package we will take to international Competition in Las Vegas in October.   If you are interested in learning more, check us out here.
I would love to hear about your hobbies and how they add richness to your life.
You can connect with me by email or telephone, or click the contact tab at the bottom of the screen if you are reading this post on the website. Don't forget to join in the conversation on Facebook too!
In harmony,
Karen
https://in-side-out.com/wp-content/uploads/2017/05/Competition-1.jpg
795
1193
Karen Armstrong
https://in-side-out.com/wp-content/uploads/2017/04/insideoutbanner4a1.jpg
Karen Armstrong
2017-05-18 09:30:28
2017-05-18 09:30:28
Leaving a Legacy: North Metro Chorus