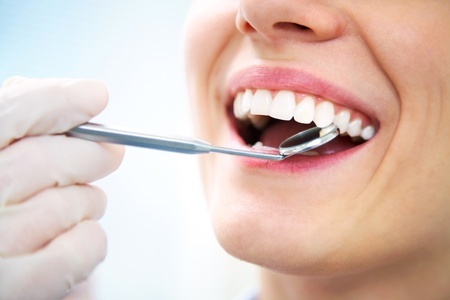 Last year was a turning point for me with regards to my oral health. I have had receding gums since my 20's and my gum pockets have continued to deepen over the years.  I am so happy to share with you today how I decreased my tooth gum pockets in the last year.
I was at the point of requiring my mouth to be frozen for my oral hygiene appointments.  This was not only costly, but required me to spread my cleaning over 2 weeks, one appointment for each side of my mouth.  I was then coached to go to a periodontist to have deep root cleaning as it was still impossible to get all the plaque from the deep pockets, where a couple measured 8. Something about that just didn't feel good to me so I began to investigate options.
The Original Consultation
I started with a consultation with a natural dental hygienist whom I had known from a business networking group.  We discussed different philosophies of mouth health and I left with a recommendation to go back to a manual toothbrush and begin using a Waterpik.  She also recommended another holistic dentist for a second opinion on the deep root cleaning.
A New Dental Hygiene Protocol
The new protocol had begun.  My reading also had me curious about oil pulling which added to my daily practice. (See my previous Blog on Oil Pulling) With these few changes in place for 6 weeks, I had my second consultation.  The re-measuring of my pockets had already decreased! Recommendation was not to have deep root cleaning at this time and continue to do what I was doing and to add ozonated olive oil to my dental floss to reach deeper down my gum line and fermented cod liver oil to reduce my sensitivity.  Great news!
My spring hygiene appointment revealed further decreasing in my pockets and for the first time in a long while, I only had topical freezing gel applied to some sensitive areas.
A New Milestone
My July appointment hailed as a milestone in my dental experience.  I had a full cleaning completed with no freezing agents, only 2 spots that were sensitive and when the session was complete, my mouth was not in trauma.  My pockets have all been reduced to ½ of their original measurements and my gums are healthier than they have been in years!  We were both over the moon about this shift.  So let me summarize for you.
In under 1 year I have:
Stopped using my electric toothbrush and am very mindful when brushing my teeth.
I use a tooth powder called Eco Dent instead of paste. It supports an alkaline environment in my mouth and my teeth feel very clean.
I floss daily and then 3 times a week I floss with an essential oil blend called Hippie Floss Oil by HolisticWellness.ca.
I take fermented cod liver oil every day by Green Pastures.
I use a Waterpik with warm water.
I did a month long practice of oil pulling and will likely do another this fall.
I have decreased the starches in my diet and eat mainly protein, fruits, vegetables and healthy fats.
The incredible results are:
I have gone from having my mouth fully frozen just to have my regular cleaning to no freezing agents of any kind.
My gum pockets have been reduced in half.
My teeth and gums have less sensitivity than they have had in the last 20 years.
After my next hygiene appointment, we will reduce the frequency of cleaning to 2 times per year unless an issue comes up.
Heartfelt thanks to Kathleen Bernardi of Woodland Dental Hygiene for her professional, leading edge and compassionate care! I encourage any of you who have sensitivity to explore options for healing your mouth.  There is so much we can do.
I am so happy with the results I have that it is hard not to share it.  I just bought a book entitled 'Cure Tooth Decay, heal & prevent cavities with nutrition" by Ramiel Nagel.  I look forward to continuing to learn more about total health and well-being in every way!
I would love to hear your experiences with your oral hygiene, it's great to share and learn from each other. I would love to hear from you. You can connect with me by email or telephone, or click the contact tab at the bottom of the screen if you are reading this post on the website. Don't forget to join in the conversation on Facebook too!
To our health and well-being!
Karen
https://in-side-out.com/wp-content/uploads/2016/08/08092016-Healthy-Gums.jpg
300
450
Karen Armstrong
https://in-side-out.com/wp-content/uploads/2017/04/insideoutbanner4a1.jpg
Karen Armstrong
2016-08-09 10:04:31
2017-04-11 11:07:08
How I Decreased my Tooth Gum Pockets