The Powerful Colours of Christmas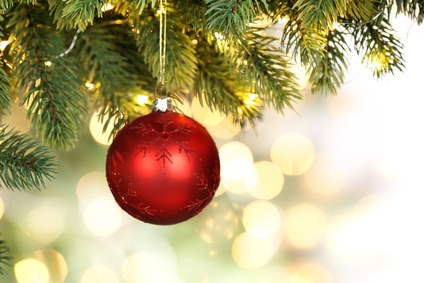 I was commenting on a client's beautiful red sweater this week and told her it was a very intuitive colour for her that day because she was feeling tired. As we were discussing this, I realized that the Christmas colours of red and green are symbolically very powerful. Humour me as I carry on….
Colours have long been used for their energetic and psychological properties in healing, functionality, design as well as in marketing. Here are a few of my thoughts on the combination of red and green for this time of year.
RED – Physical
Associated with the Root Chakra.
Positive: Physical courage, strength, warmth, energy, basic survival, 'fight or flight', stimulation, masculinity, excitement.
Negative: Defiance, aggression, visual impact, strain.
Being the longest wavelength, red is a powerful colour. Although not technically the most visible, it has the property of appearing to be nearer than it is and therefore it grabs our attention first. Hence its effectiveness in traffic lights the world over. Its effect is physical; it stimulates us and raises the pulse rate giving the impression that time is passing faster than it is. It relates to the masculine principle and can activate the "fight or flight" instinct. Red is strong, and very basic. Pure red is the simplest colour with no subtlety. It is stimulating and lively and very friendly. At the same time, it can be perceived as demanding and aggressive.
We are often over booked prior to Christmas with lists to fulfill and functions to attend. We may over eat and drink, get less sleep and stress about being ready in time, stress about family gatherings or be triggered with sadness from loss, lack of sunlight and shorter days. Red is a perfect colour to bring physical energy and strength.
GREEN – Balance
Associated with the Heart Chakra.
Positive: Harmony, balance, refreshment, universal love, rest, restoration, reassurance, environmental awareness, equilibrium, peace.
Negative: Boredom, stagnation, blandness, enervation.
Green strikes the eye in such a way as to require no adjustment whatever and is, therefore, restful. Being in the centre of the spectrum it is the colour of balance – a more important concept than many people realize. When the world about us contains plenty of green, this indicates the presence of water, and little danger of famine, so we are reassured by green on a primitive level. Negatively, it can indicate stagnation and, incorrectly used, will be perceived as being too bland.
This time of year we are also focused on expressing our love and gratitude. Heartwarming gatherings, present giving, awareness for those less fortunate are all part of the seasons attention. We also have the Christmas message shared through carols, movies, stories, church services and cards. All these activities embrace the energy of green.
I wish everyone reading this good tidings of Peace, Joy, Health and especially Love! Please take  few minutes to enjoy this uplifting piece!
If you have a colour story, please share it with me.  I love receiving your feedback. Feel free to connect with me by email or telephone too, or click the contact tab at the bottom of the screen if you are reading this post on the website. Don't forget to join in the conversation on Facebook too!
See you in 2016!
Karen
[xyz-ihs snippet="CALL"]
https://in-side-out.com/wp-content/uploads/2017/04/insideoutbanner4a1.jpg
0
0
Karen Armstrong
https://in-side-out.com/wp-content/uploads/2017/04/insideoutbanner4a1.jpg
Karen Armstrong
2015-12-17 08:13:01
2015-12-29 09:23:48
The Powerful Colours of Christmas