The Energy Influence of Electro Magnetic Frequencies (EMF)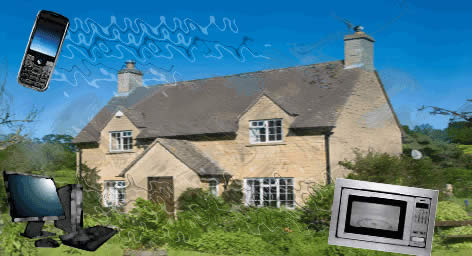 Here is a personal account of how Electro Magnetic Frequencies (EMF) have affected our family.  I found myself sharing with a client yesterday, the journey our family went through to discover what the root cause of my husband's discomfort was a few years back and decided it might be relevant to share it here with you.
What started out as a relatively annoying sporadic skin rash some 30 years ago started becoming a regular issue around 2005.  The normal protocol from the medical field was to treat the sporadic outbreak with cortisone cream, however the more I learned about the negative side effects of this cream, I encouraged my husband not to use it.  We would try other natural options, but one day the issue got so bad, he said that he needed to get to the bottom of it.  We sought the help of an Iridologist, Naturopath and finally got to a TCM Doctor who specialized in acupuncture.  That brought a complete detoxification of his system and gradually strengthened it do a better place than he had been for years however – symptoms would still appear every once in a while.
He was just about to accept that this was his fate however the TCM doctor would not.  He asked for 1 more chance and had my husband review every step he took throughout his day.  What was revealed was the fact that he carried a cell phone on his belt throughout the day after leaving the clinic.  This had never surfaced because my husband would always leave his phone in the vehicle when he went into the clinic for his treatments.  He was asked to leave it on the shelf for 1 week.  Really!!!???  The week was good, so they tried another week which was also symptom free.  Then we went out for dinner at friends and he reacted in a big way – we asked if anything was microwaved in the preparations and yes it was.  We tested him having microwaved foods and he always reacted immediately – so we got rid of our microwave and began the learning journey of the effects of EMF's on our body and nervous system.  It was quite an education.
My husband continued for a number of years with the support of acupuncture. Between managing his exposure to EMF's and strengthening his system with the acupuncture we could keep any outbreaks to a minimum.  It was not until I was introduced and trained in the use of the Chiren, a Biophoton Light instrument that we have almost eliminated the symptoms all together.  We discovered that due to his profession, he was exposed to heavy metals frequently and they were built up in his body.  This acted like a conductor for the EMF waves and made it more difficult for him to not actually attract them to his system.  Currently, we have made a number of changes in our home and habits, he continues to avoid microwaved foods and manages his exposure time to heavy EMF areas and things are better than ever.  Below is a list of changes we made as well as typical sensitivities that exposure to EMF's can cause people and finally some websites to explore more yourself.
Changes we made:
Removed our microwave oven.
We removed the LED alarm clock from beside the bed and went to a battery operated travel clock.
We removed the TV from our bedroom.
We unplug the wireless system to the house every night and keep any cell phones at the furthest distance from the bedroom.
We removed any fluorescent lighting from the house and work place.
We upgraded the old console tv to the newer technology and keep it away from any bedrooms.
We installed an Earthcalm EMF Home protection system.
Focus on using hands free options any time a cell phone is required.
Common Electrosensitivity Symptoms:
Chronic headaches/mind fog
Digestive disorders
Sleep disturbance
Memory loss
Chronic pain
Depression/anxiety
Dizziness
Multiple allergies
Skin rashes
Reference Sites:
Do you recognize these symptoms in your home or office?  I'd love your feedback. Don't forget to leave a link back to your own blog too if you have one via the commentluv feature here on the site.
Until next time,
Karen
https://in-side-out.com/wp-content/uploads/2017/04/insideoutbanner4a1.jpg
0
0
Karen Armstrong
https://in-side-out.com/wp-content/uploads/2017/04/insideoutbanner4a1.jpg
Karen Armstrong
2013-03-26 09:27:41
2014-05-05 06:23:57
The Energy Influence of Electro Magnetic Frequencies (EMF)