2013 – Preparing for New Beginnings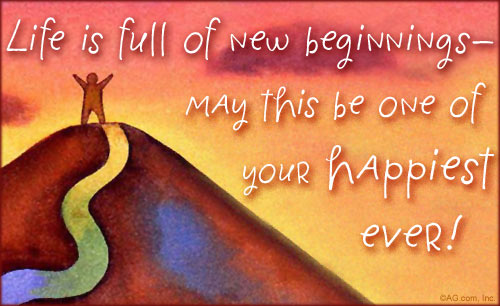 Well – here we are 1 week before Christmas day and 2 weeks left in 2012!   I know you may be fully engulfed in preparing for the activities that are abundant right now so what am I doing talking about "preparing for new beginnings"?
This is a new beginning time for me every year because I happen to have my birthday in December.  I seem to be drawn to completing unfinished projects before my birthday and to begin thinking about my next year.  The other pattern for me in December is to give my home a thorough cleaning before I put up any Christmas decorations.  The thought of adding beauty to clutter just feels like adding clutter to clutter.
This year my desire to de-clutter was very strong.  I decided to ask a good friend and colleague whom I know to be extremely good in this area if I could hire her for a few days to work with me.  As she lives 3 hours away, it was a good opportunity to catch up and get some good work done.  We spent about 25 hours over 3 days together going through my home office with no file, binder, drawer or cupboard or wall left untouched!  It was arduous and sometimes tough to decide what to keep and what to toss, but I must tell you that when we were completed, I was elated! This year more than others, I was really ready to re-organize my office so that I could refocus my activities and direction for 2013. The clarity that I feel is fantastic.  I actually called the process "Clearing for Abundance"!  In the week since the clearing, I have run a Level 1 Reiki Certification class that once again was awesome AND booked in 4 new clients!  Thank you Janina!
I am ready to step into 2013 with a deeper sense of purpose and clarity.  My vision board is done, my classes are booked and I am ready to continue on this magical journey of learning and growing and experiencing joy and love!
I would like to take this time to thank my family, friends, clients, teachers and mentors for the richness you add to my life.  Every day and every moment gives us the opportunity to create new and I wish for each of you magical moments that continue to flow.
I would like to share a couple of links here that bring joy to my heart so that you may enjoy them when you have a moment.
A New Year Meditation by Andrea Mathieson of Raven Essences :
My dear friend and musician Ron Korb has released an incredible new CD entitled "Europa" available on Amazon. Here is one of my previous favourites called Greeneyed Maiden.
A fabulous a-capella group called Straight No Chaser with their version of The Christmas Can-Can!
Finally I leave you with this quote from Ralph Waldo Emerson:
"What lies behind you and what lies before you pales in comparison to what lies inside you."
I look forward to co-creating 2013 together! I'd love your feedback too! Don't forget to leave a link back to your own blog if you have one via the commentluv feature here on the site.
In Gratitude,
Karen
http://in-side-out.com/wp-content/uploads/2017/04/insideoutbanner4a1.jpg
0
0
Karen Armstrong
http://in-side-out.com/wp-content/uploads/2017/04/insideoutbanner4a1.jpg
Karen Armstrong
2012-12-18 13:08:23
2014-05-05 06:26:55
2013 – Preparing for New Beginnings