Acknowledging Your Own Greatness – I Am Awesome!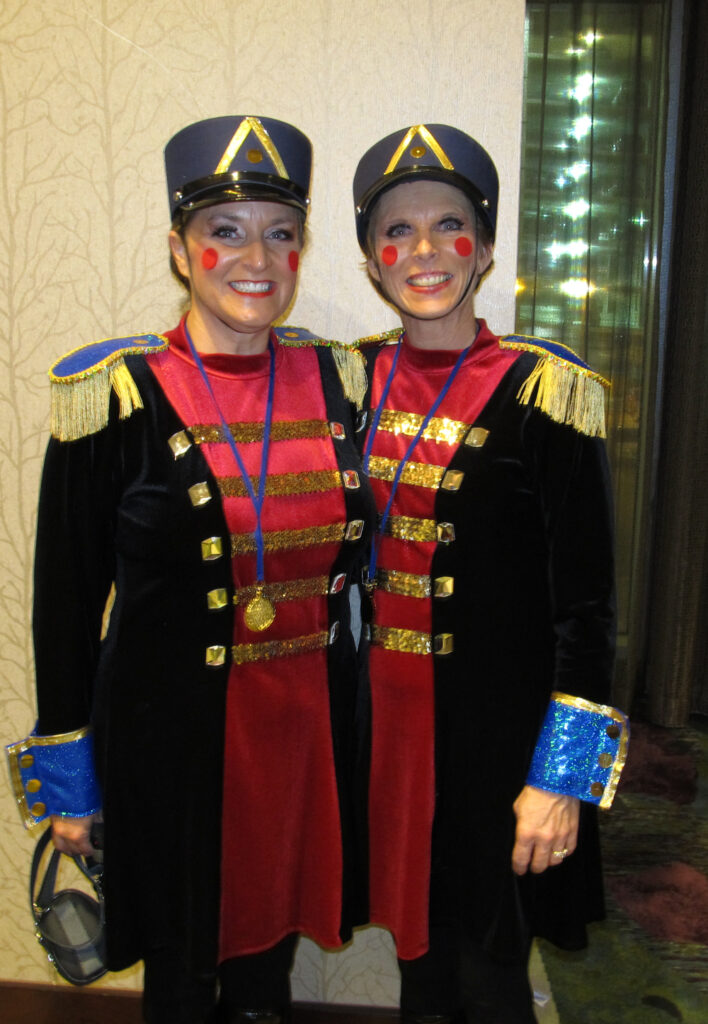 I am awesome! Yes – I just wrote that statement, a humble Canadian!  It has taken a lot of practice, let me tell you.  It appears that we Canadians have a reputation for not being able to acknowledge our greatness – we are just fantastic at acknowledging other peoples greatness!  You see, the real eye opener took place about 3 weeks ago when I was at chorus rehearsal.  It was the week before leaving for our International competition in Denver, Colorado and we were tweaking our performance package with the unbelievably amazing Erin Howden, our choreographer.  Half way through the night after almost standing on her head to get a point across about how much we needed to transcend the footlights with our expression and energy – she asked us to do a little exercise.
She asked each of us to turn to the chorus members standing around us and tell them how awesome they were.  Well – that was effortless, it came with complete sincerity and lots of energy.  Once we calmed down she said, ok, now turn to the chorus members around you and tell them how awesome you are!  Oh my goodness – that was a whole different ball game.  It did not flow effortlessly or with sincerity or lots of energy…in fact it was rather awkward!  I even witnessed a fellow chorus member stick her finger in her mouth and make a gagging motion after she said this to her riser buddy.  We obviously had some work to do.  Did it mean we didn't think we were good enough to go after the Gold medal in Denver?  No it didn't.  However it might have impacted how our attitude would come across on stage.  It was not a time and place to be "nice polite Canadians"!   So the next part of the exercise (because it was not over yet)….was to imagine we were one of our Sweet Adeline idles and once we took on the persona of how we believed they would handle this situation – we again approached the riser gals around us and shared the message with them that we in fact were Awesome!!  It worked!  And you can bet that that became an exercise we did every practice until we stood on International stage to perform our package.  And you know what?  It really did get easier and I would say that something shifted because along with all the other preparations we did, our time on stage for the semi-finals was incredible and we came off feeling like we executed our plan!
The fact that we did make it into the top 10 to compete again in the finals 2 days later was confirmation that things were working.  And even though we did our finals package really well – we stepped back into the place of not being sure as we discussed the details of our personal experience with each other after getting off stage.  We had drawn 1st in the order of appearance which meant we got to see all 9 other competitors in the final round.  That was exhilarating, nerve wracking and emotionally exhausting all at the same time.  And even though many audience members and supporters told us we were fabulous, we kept wanting to check with just one more person and one more person to see what they thought!  When that precious moment came to announce the placement of all the finalists – we had ourselves in quite a state!  The awards are issued from 10th place up to first place and the suspense is quite intense. So – when we were still in the running after 3rd place was called, it was all we could do to sit still.  The 2nd place chorus was announced and it wasn't us – it took a moment for the reality of that to hit and then we erupted into shrieks of disbelief and pure JOY!   This humble Canadian chorus learned how to get out of their own way and just allow the love of the music and the hours of dedicated practice to transcend as a unit to the judges and the audience. The feeling of freedom and JOY was so thrilling – I find it difficult to express it in words.  We brought the Gold Medal home to Canada – YES!  We ARE Awesome and I guess that means I AM AWESOME!
What could you achieve if you dropped the fear or the polite persona that allows you to fit into your circles?  I can tell you – it's worth the risk.
If not now – when? I'd love your feedback. And don't forget to leave a link back to your own blog too via the commentluv feature here on the site.
To your freedom and JOY!
Karen
https://in-side-out.com/wp-content/uploads/2017/04/insideoutbanner4a1.jpg
0
0
Karen Armstrong
https://in-side-out.com/wp-content/uploads/2017/04/insideoutbanner4a1.jpg
Karen Armstrong
2012-11-13 10:19:32
2014-05-05 06:27:56
Acknowledging Your Own Greatness – I Am Awesome!