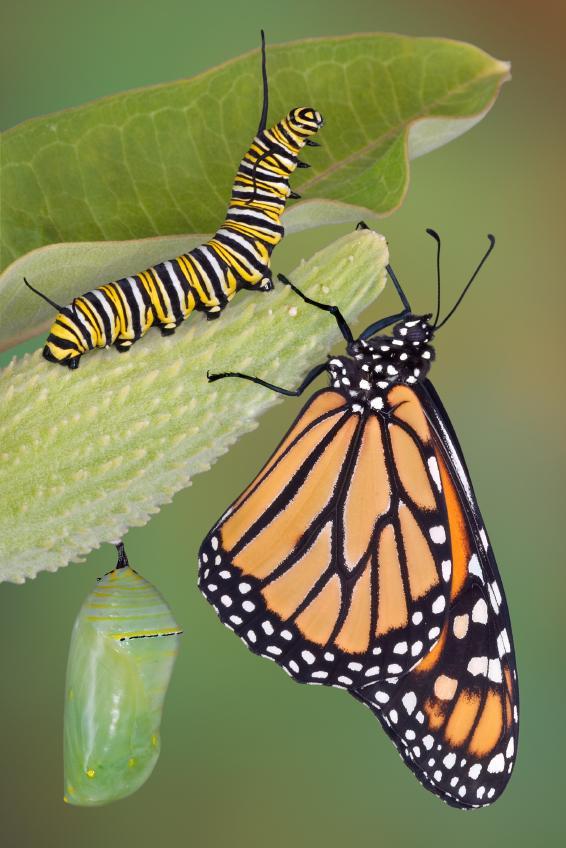 "What the caterpillar calls the end of the world, the master calls a butterfly!" Richard Bach
Welcome to the first day of spring for 2012!  We are certainly experiencing cooperation from our weather in this region – I have witnessed a sudden change into shorts sleeves and sandals from warm coats and boots a couple of weeks ago! Beautiful! This day has had extra special meaning for me for the past 24 years as our first born arrived on this day in 1988.  Talk about experiencing a life changing event!
In his book, "When Everything Changes, Change Everything", Neale Donald Walsch shares some wonderful stories and insights on how we typically deal with change, what we could do to manage it differently and why it is important. Here are a couple of passages that really spoke to me:
"If we can recognize that change and uncertainty are basic principles, we can greet the future and the transformation we are undergoing with the understanding that we do not know enough to be pessimistic!"
"Life is change and when there is nothing changing, there is nothing living.  Life is movement, movement is change. Change therefore is inevitable. It is the nature of life itself."
I don't know about you, however just when I think that I have my life figured out and relatively lined up, a day comes along that changes everything.  It has been a few weeks since I have posted a blog because one of those days happened.  I lost my father on March 6th, 2 weeks after going into the hospital to check out why he was experiencing discomfort in his chest. Now that's a big change in my life and one that I will take time to integrate fully. I have an amazing family and support network with caring friends and that absolutely makes this easier to move forward with.  I also know that my dad is an integral part of who I am so he lives on in me, and in the people he touched and that is the precious eternal part of our circle of life.
As the magic of life would have it – the week after his passing I was scheduled to go on a training course for a new therapy I have been planning to add to my practice.  It was a great thing for me to do – immerse myself in learning something new that means so much to me and I knew in my heart I was right where I was meant to be.  After all, this opportunity presented itself to me following a trip to South Africa that my husband and I went on with my father and stepmom last spring. I feel this new journey was a gift that came to me through them and I can dedicate this part of my practice to them.
Today is the first day of spring – this week is my first week offering biophoton therapy to my clients. (watch for more details on what this is next week) I am embracing this change.
I would like to encourage you to think about something you would like to effect positive change on in your life; be it a relationship, your health and happiness, your career, your home or learning something new. Let the energy of spring bring new energy to your life – after all you get to choose. Let me finish with another quote from Neale's book:
"The trick to life is not to try to avoid change, but to create change.  Life begins at the end of your comfort zone!"
I encourage you to share your thoughts and ideas here so we can inspire each other.  What changes would you like to initiate?  Don't forget to leave a link back to your own blog too!
Until next time,
Karen
https://in-side-out.com/wp-content/uploads/2017/04/insideoutbanner4a1.jpg
0
0
Karen Armstrong
https://in-side-out.com/wp-content/uploads/2017/04/insideoutbanner4a1.jpg
Karen Armstrong
2012-03-21 06:53:50
2014-05-05 06:33:31
Spring – an Opportunity to Create Change