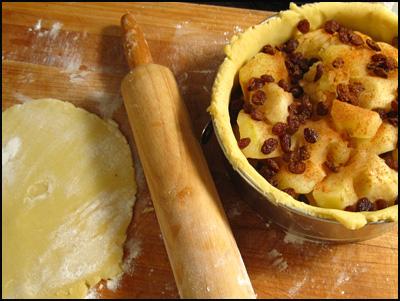 Last Friday was a special day!  I got to balance work and play! I spent the afternoon with my husband and 5 other couples making apple pies.  This has become an annual event and we all look so forward to the comradery and the fact that we have beautiful apple pies in our freezer to pull out throughout the year for a special dessert.
Let me back up – 11 years ago, I had a call from a friend who was putting together a couples' activity group and wondered if my husband and I would enjoy participating.  There would be 6 couples and each would be responsible for creating an event once during the year for the group. I was all in to add a bit of play time to our busy schedules and jumped right in as it sounded like a wonderful idea.
We started off with a planning meeting where we all brought our ideas and calendars and we established the first 6 events. Many of us had younger children at the time ranging in age from approximately 7 – 13 so some events were classified as family activities and some just couples. Who would ever have known that 11 years later, we would still be a very active group and we look forward to every event with great excitement.
We have experienced things that as a couple we would never have known about or thought about for that matter!  We are always on the look out for a "couples' idea" as the year unfolds and I keep a special folder that I put flyers, newspaper clippings and hand written ideas into to bring forward the next year.  We actually have our official 6 events now and a number of what we call "extras"! The apple pie making day has become an annual extra that started as one of the couples' official event 5 years ago.  We loved it so much that we all committed to continue every fall after the apple harvest has taken place. The men work in the garage peeling, coring, cutting and mixing the apples with the magic recipe of cinnamon, sugar and flour.  They bring the bins of prepared apple filling into the kitchen where the gals are busy making pastry, rolling the dough, filling the pies and handing them back to the guys to bag and label.  Refreshments are served, we catch up on all the happenings of each family and end up with a pot luck dinner complete with fresh made apple pie for dessert.  The best part is, we leave at the end of the night with a supply of apple pies to tuck into the freezer at home.
This group has been an important outlet for creativity, laughter, support during challenging times and a very special part of all of our lives.  The activities range from themed and costumed dinners like a King Henry VIII feast, outdoor hiking excursions, camping weekends, music, theatre, games nights, boat tours, winter tubing, tobogganing and on and on.  Here's what's coming up for this year:
We kicked off with an evening guided lantern tour of the Sharon Temple followed by a visit to the Roast of Sharon to listen to the band.
A full dress Halloween Dinner Party where every part of the meal was in complete theme for the evening.
A dinner ride on the York Durham Heritage Railway.
A visit to the ROM in the spring.
A evening of up-close magic with a professional magician to entertain after our swim and bbq dinner.
A tour of the Butter Tart Trail.
Most of our lives have ample demands for our time and energy and having this group gives a little respite to the hectic schedules. We always have lots to laugh about and we are reminded of the special gift that friendship brings into our lives.  We dream of taking a grand trip one day like boating down the French waterways or going to New Zealand and you know – I believe it will happen!  So – I encourage you to explore this idea if it sparks an interest.  I am happy to share specifics if anyone is interested.  How about you – do you have annual group events that bring richness to your life?  I would love to hear about them. And when you leave your comment, don't forget to take advantage of the commentluv you will find here and leave a link back to your own blog at the same time! Of course I am always open to great ideas to host for our events too – pass along your ideas! LOL
Until next time,
Karen
https://in-side-out.com/wp-content/uploads/2017/04/insideoutbanner4a1.jpg
0
0
Karen Armstrong
https://in-side-out.com/wp-content/uploads/2017/04/insideoutbanner4a1.jpg
Karen Armstrong
2011-11-30 11:38:19
2014-05-05 06:35:04
Balancing Work and Play