You can see easily from different points of view and tend to agree with people more than disagree with them.  You feel like you have to take what life brings you because you can't do much about it anyway. You are pretty easy to please and usually feel that what you have is good enough for you.  If these statements resonate with you then read on to learn more about Type Nine.  Remember that we have a bit of all types within us, so look for the way Type Nine shows up in you.
Type Nine can be called The Peacemaker, The Comforter, The Mediator, The Healer and the Utopian.  Nines are the type most dedicated to looking for internal and external peace in themselves and others.  They work to maintain an inner peace of mind and prefer to create harmony in their environment. It is very challenging for them to focus on negative or disturbing issues and they will tend to just avoid them. It can be confusing for Nine's to self type themselves and I believe this is summed up perfectly in the Riso/ Hudson book, The Wisdom of the Enneagram with this passage:
"We have sometimes called the Nine the crown of the Enneagram because is at the top of the symbol and because it seems to include the whole of it. Nines can have the strength of Eights, the sense of fun and adventure of Sevens, the dutifulness of Sixes, the intellectualism of Fives, the creativity of Fours, the attractiveness of Threes, the generosity of Two's, and the idealism of Ones.  However, what they generally do not have is a sense of really inhabiting themselves – a strong sense of their own identity.  Ironically, therefore, the only type the Nine is not like in the Nine itself.  Being a separate self, an individual who must assert herself against others, is terrifying to Nine's." (page 316)
As young children, Nine's would deal with conflict in their environment by withdrawing and not adding to the trouble. They learned that if they were undemanding and had few expectations, that they could protect themselves and keep the family more calm. Nine's have that effect on people they encounter – they hold a sense of easy goingness, non-demanding, non-judging which endears them to others.  We feel safe around them.  They see the potential in others as the Two's can do, and really encourage others to go ahead and try to fulfill their dream. With this focus on keeping everyone else in a good place, Nine's can lose touch with their own inner voice and not be able to decide what to do next for themselves. As the centre of the Instinctive Triad or the Gut Centre, Nine's work is to wake up to their own passion, drive and power.  They do not always see the difference that they make in the world and seem to accept that that's just the way life is.  Wonderful procrastinators – they can always find reasons to avoid doing something they are just not sure they are ready to tackle.  We say, Nine's will never do something they don't want to do however they will not tell you no.  It just won't happen. They have a bit of a stubborn streak to those who know them.
I have a Type Nine friend who is a genius in her craft and as a teacher will make it all look easy. She will say "if I can do it, anyone can do it!", which puts everyone at ease and ready to jump in and try.
Nine's at their best in a relationship are kind, gentle, reassuring, supportive, loyal and non-judgmental.  Nines at their worst in a relationship are stubborn, passive-aggressive, unassertive, overly accommodating and defensive.
Practical suggestions for Type Nine:
Take regular exercise that gets the heartbeat going and amps the energy.
Practice asking clearly for what you want in relationships.
If you find yourself saying, "I don't know," or "Okay, whatever…" pay attention.  Instead tell them you will let them know when you decide, that you need time to think.
Start a daily journal.  Every day write down , "I am angry about…" at least three times and learn to acknowledge this emotion in your life.
Make daily realistic lists of what you want to accomplish and stick to them.
If you go to the fridge between meals, ask what uncomfortable thing you are avoiding.
Learn to include your opinion in a group by asking your higher self what it wants, as if it were another equally valid member, and verbalize it.
Exert yourself. Force yourself to pay attention to what is going on. Do not drift off or tune out people or daydream. Work on focusing your attention to become an active participant in the world around you. Try to become more mentally and emotionally engaged.
It is worth examining your type's tendency to go along with others, doing what they want to keep the peace and be nice. Will constantly acquiescing to the wishes of others provide the kind of relationships that will really satisfy you? Remember, it is impossible to love others if you are not truly present to them. This means that you have to be yourself, that you (paradoxically) have to be independent so that you can really be there for others when they need you.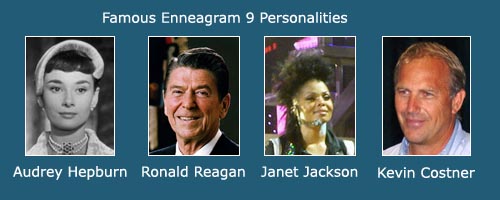 Famous Nines:
Audrey Hepburn, Ronald Reagan, Janet Jackson, Kevin Costner, Gerald Ford, Sophia Loren, Walter Cronkite, Whoopi Goldberg, Ingrid Bergman, Abraham Lincoln, Queen Elizabeth II, Walt Disney, Norman Rockwell
How about you? Do you think you are a Type Nine?  I love getting feedback. And here on the blog, you get commentluv. This is a plug-in that allows you to leave a link back to your own site when you leave a comment.
Until next time,
Karen
https://in-side-out.com/wp-content/uploads/2017/04/insideoutbanner4a1.jpg
0
0
Karen Armstrong
https://in-side-out.com/wp-content/uploads/2017/04/insideoutbanner4a1.jpg
Karen Armstrong
2011-05-17 10:15:51
2012-08-24 06:38:51
Enneagream - Type 9 The Gentle, Even-Keeled Type