Enneagram Type 7, The Fun-Loving Enthusiast
Are you the type who looks at the world as a big smorgasbord and you can't wait to taste a bit of everything?  Like a kid in a candy store ever watchful of what will grab your attention next. You love the excitement of creating and starting new projects, meeting new people or sitting down to choose which of your current stack of books to read. It's only Monday but you are delighting in planning all the options available for the coming weekend.   If so – read more to learn more about the motivation behind our charismatic Type Seven. Remember that we all have a bit of every type in us so it is valuable to explore how each type fits into our own way of being.
Type Seven can be called the Enthusiast, The Epicure, The Adventurer, The Visionary or The Generalist.  Sevens are frequently endowed with quick, agile minds and can be exceptionally fast learners. This is true both of their ability to absorb information and for new manual skills – they tend to have excellent mind-body coordination and manual dexterity.  All of this can combine into the quintessential Renaissance person. Because they are able to pick up many different skills with relative ease, it becomes more difficult for them to decide what to do with themselves. You won't find Sevens getting too bogged down with negative thoughts however – they are constantly looking at the bright side of any situation and will learn from everything. Instead of paying attention to inner negative feelings and anxiety that arises when they are out of touch with their inner guidance, they keep their minds busy all the time searching for the stimulation brought about by new experiences. Boredom is not an option.  Commitment can be a challenge when you never know what exciting possibilities could surface around the next corner.
"On a very deep level, Sevens do not feel that they can find what they really want in life.  They tend to try everything and ultimately may even resort to anything as a substitute for what they are really looking for" (Wisdom of the Enneagram, Riso/Hudson).  Many will say they still haven't figured out what they want to do when they grow up!  Thus we say our Sevens live by options, plans and possibilities and truly have fun allowing life to show up and making spontaneous choices in the moment. They often live a very full life and have had more experiences at any given age than some of us will have in a lifetime. Some of the valuable things I have learned from my Seven friends are:
Colour outside the lines
Notice the little miracles unfolding around us every moment, like the bee's gathering nectar for sweet honey.
Never play trivial pursuit with them – they know way too many odd facts and bits of wisdom on all subjects.
If it's not fun – why bother?
Every cloud has a silver lining if you just look.
Sevens at their best in a relationship are lighthearted, generous, outgoing, caring and fun.  They introduce their friends and loved ones to new activities and adventures. Sevens at their worst in a relationship are narcissistic, opinionated, defensive and distracted.  They are often ambivalent about being tied down to a relationship.
Practical suggestions for Type Seven:
Focus on what you have, rather than on what you dream of getting.
Negotiate quality time with your partner and friends, when you can chill.
Notice the balance of "talk" to "listen" and make sure you give others air time.
When the urge to "get going" arises, take a deep breath and make a commitment to finish the project and develop constancy.
Regulate your meals and sleep. Pay particular attention to this before exhaustion sets in.
Recognize your impulsiveness, and get in the habit of observing your impulses rather than giving in to them.
You do not have to do everything this very moment. That tempting new acquisition will most likely still be available tomorrow (this is certainly true of food, alcohol, and other common gratifications)
Your sense of humour, wit and quick mind are a source of pleasure for you and others. However, watch what you say. Avoid the tendency to say more than you mean for effect or to get a reaction from others.
In a similar vein, remember it is not your job to keep yourself or other people "up" all the time. Cultivate depth and do not be afraid of your sorrow.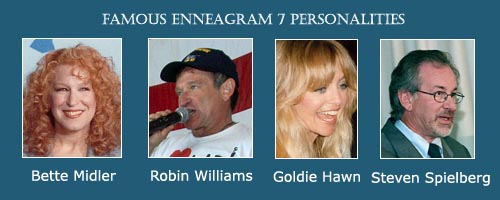 Famous Sevens:
Bette Midler, Robin Williams, Goldie Hawn, Steven Spielberg, Jim Carrey, Carol Burnett, Sarah Ferguson, Jack Nicholson, Lucille Ball, Joan Rivers, John F. Kennedy
How about you? Do you relate to a Type 7? I love getting feedback.  Here on my blog, you'll get commentluv. This is a plug-in that allows you to leave a link back to your own site when you leave a comment. But you don't have to be a blogger to leave feedback, I'd love to hear from everyone!
Until next time,
Karen
https://in-side-out.com/wp-content/uploads/2017/04/insideoutbanner4a1.jpg
0
0
Karen Armstrong
https://in-side-out.com/wp-content/uploads/2017/04/insideoutbanner4a1.jpg
Karen Armstrong
2011-04-26 09:35:03
2012-08-24 06:37:43
Enneagram Type 7, The Fun-Loving Enthusiast