Enneagram Type 4 – The Sensitive & Creative Person
Nine Ways of Relating in Life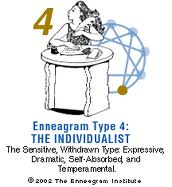 Do you have a deep yearning to search for the meaning of life? Are you motivated to express your authenticity, to experience your feelings, to be understood and absolutely run from anything you deem "ordinary"? If these statements resonate with you, then follow along to learn more about the drive of Type Four and how that can play out in our lives.
Remember that we all have a bit of every type in us so it is valuable to explore how each type fits into our own way of being.
Type Four's can be called the Individualist, The Artist, The Connoisseur, The Melancholic, or The Special One.  Fours maintain their identity by seeing themselves as fundamentally different from others.  Fours feel that they are unlike other human beings, and consequently, that no one can understand them or love them adequately. They often see themselves as uniquely talented, possessing special, one-of-a kind gifts, but also as uniquely disadvantaged or flawed.  However as talented as these types are, there is often a sense that something is missing in themselves or in their life although they may have difficulty identifying exactly what that something is.  Fours have the ability to find meaning in life and to experience feelings at a deep level.  They admire what is noble, truthful and beautiful in life. They can also establish warm connections with people, are very creative, intuitive and can have a good sense of humour.  Because Four's respond to the world from an inner sense of what they are feeling, many daily decisions are also based upon how they feel such as what to wear, what to eat or what to plan on a free day. This makes advance planning more challenging. I have a friend whose husband can not make a weekly meal plan work; "How could you decide on Sunday what you want to have for supper on Thursday?  That just doesn't work for me!"  This sensitivity can also have them experience dark moods or periods of melancholic dreaming and they can be quite hurt when someone misunderstands them.
Fours at their best in a relationship, are empathetic, supportive, gentle, playful, passionate and witty.  They are self-revealing and bond easily.  Fours at their worst in a relationship, are too self-absorbed, jealous, emotionally needy, moody, self-righteous and overly critical.  They become hurt and feel rejected easily.
Practical suggestions for Type Four:
Perform a loving act towards yourself every day.
Notice your attention going to what is missing, and learn to value the positive aspects of what is here and now.
Update a gratitude diary first thing every morning and as a last thing every night.
Notice when you are "amping up" your emotions, and take breath into the belly centre and focus there.
Know that when you envy qualities in another, these are your own unacknowledged qualities.
Remember that all things pass.
Avoid putting off things until you are "in the right mood." Commit yourself to productive, meaningful work that will contribute to your good and that of others.
Avoid lengthy conversations in your imagination, particularly if they are negative, resentful, or even excessively romantic. Instead of spending time imagining your life and relationships, begin to live them.
A healthy self-discipline takes many forms; from sleeping regular hours to working regularly to exercising regularly and has a cumulative, strengthening effect.
Famous Fours: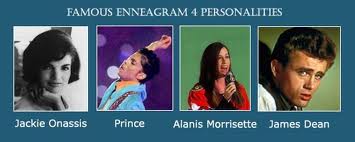 Jackie Onassis, Prince, Alanis Morrisette, James Dean, James Taylor, Johnny Depp, Anthony Hopkins, Bob Dylan, Sarah McLaughlin, Edgar Allan Poe, Michael Jackson
How about you? Do you relate to a Type 4? I'd love to get your feedback. Here on my blog, you'll get commentluv. This is a plug-in that allows you to leave a link back to your own site when you leave a comment. But you don't have to be a blogger to leave feedback. I'd love to hear from everyone!
Until next time,
Karen
https://in-side-out.com/wp-content/uploads/2017/04/insideoutbanner4a1.jpg
0
0
Karen Armstrong
https://in-side-out.com/wp-content/uploads/2017/04/insideoutbanner4a1.jpg
Karen Armstrong
2011-03-15 08:28:57
2012-08-24 06:32:17
Enneagram Type 4 – The Sensitive & Creative Person