Nine Ways of Relating in Life – Are You a Two?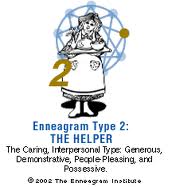 Would you consider yourself a real people person?  That life is about relationships; of being needed by others in your life to support them and keep them in a happy place whenever possible?  Do you always like to see the best in others?  Do you intuitively know what kind of mood someone is in without having to ask? If you find yourself nodding with agreement, then read on to learn more about Type Two.
Remember that we all have a bit of every type in us so it is valuable to explore how each type fits into our own being.
Type Twos can be called the Helper, the Giver, the Loving Person, the Caretaker.  Twos are motivated to be appreciated by others, to be helpful and so earn love. They fear rejection.  A huge amount of effort, often to the point of exhaustion, is put out to meet other people's needs. Twos have a built-in radar to know how to respond to all types of people and to say and do just the right thing.  This sensitivity operates without really having to work at it.  There is an underlying need to receive approval and Two's tend to be very flattering and positive, always bringing attention to others strengths. If you have a Two in your life, they will always remember your birthday and spend time picking out the perfect card, if you are going through a tough time, expect them to be right there to support you, if you are in charge of a big project, then find a Two to help make it happen.  That is the Twos typical style – to find leaders whose cause they believe in and be the power behind the throne – not the one in the spotlight.  You will wonder how you could ever have done it without them!!  And that is exactly how they want to place themselves.  A Two can be juggling all their balls in the air and if you happen to ask them for help – you got it, the answer is always Yes!  That is definitely a challenge for our Twos – saying no.  They can become drained because of all the doing for others.  After all – it is not okay for THEM to ask for help.  They also have trouble knowing what it is that they truly want as all the focus is on what others want.
Twos at their best in relationships are attentive, appreciative, generous, warm, playful and nurturing.  Twos make their partners feel special and loved.  Twos at their worst in a relationship, are controlling, possessive, needy and insincere.  Since they have trouble asking directly, they tend to manipulate to get what they want.
When Twos learn that if they do not look after themselves, there is nothing left of them to look after others – and that they are inherently loveable for themselves, then they can bring the scale back into balance.
We have a Type Two Minister at our church and she is amazing at delivering a sermon that speaks to each and everyone, being creative and fun, even childlike while leading the "children's time", hosting a dinner for the choir yearly to let them know how special they are and opening up her own home to the congregation at Christmas for an open house!  We just need to remind her to take regular study breaks to regroup and build back up her seemingly endless reservoir for serving others or we could lose her to burnout.
Practical suggestions for Type Two:
Spend time alone, at home, walking in nature.  Take a vacation alone.
Give yourself some of the attention and pampering that you usually give to others.
Value the love that is in your life instead of focusing on what's missing.
Set limits. Say, "No, this is not a good time to talk" or "No, I will not be able to help right now" when you feel that another's request or demand would be too stressful for you.
Try to be your own person, not the one others want you to be. Remind yourself that not everyone likes you, and that this is normal.
Take pleasure in giving in little ways. Stop overgiving and graciously accept when people give to you.
Notice when anger arises and look to see what need you are repressing.
Practice telling truth honestly without a positive spin, even if it is negative.
Famous Twos:
Mother Teresa, Desmond Tutu, Eleanor Roosevelt, Luciano Pavarotti, Barbara Bush, Leo Buscalia, Bill Cosby, Barry Manilow, Lionel Ritchie, Kenny G., Lillian Carter, Martin Sheen, Robert Fulghum, Jack Paar, Ann Landers, Dr. McCoy (Star Trek), Mr. Rogers
Do you think you are a Type Two? I love getting feedback.  And here on my blog, you'll get commentluv. This is a plugin that allows you to leave a link back to your own site when you leave a comment.
Until next time,
Karen
https://in-side-out.com/wp-content/uploads/2017/04/insideoutbanner4a1.jpg
0
0
Karen Armstrong
https://in-side-out.com/wp-content/uploads/2017/04/insideoutbanner4a1.jpg
Karen Armstrong
2011-02-15 06:07:38
2012-08-24 06:31:27
The Enneagram - Understanding a Type Two